ART of Teresa Yost
Atelier de Teresa is the creative studio of sculptor Teresa Yost. Variety is definitely the spice in this exciting sculptor's work. Her love of art comes to life in beautiful ceramic sculptures that can be playful or personal, dramatic or whimsical.
Don't believe me? Well, what do you think these little guys are talking about!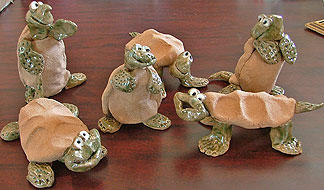 Whether she works in bronze or ceramic, her individually sculpted pieces delight the eye. Teresa nurtures her love of creating with each piece she sells.

A unique personality trait is her true pleasure in working with clients on commissions. Teresa perseveres to give that just-right look to an artwork that holds great meaning for its owner.

Her artwork is available for sale in Gallery 301 at The Picture Show located in historic, downtown Havre de Grace. Or you can e-mail Teresa.
WHOLESALE CUSTOMERS
Please visit our wholesale website if you are a retailer with a business license, or Fed. resale Tax No. etc. You will need to create a free membership/login to view. All info for purchasing is available there. With more than 40 retailers on our list at present, we look forward to hearing from you! Of course, you can always visit our Contact Page for ways to reach Teresa directly or to purchase at retail pricing from this site.
Thank you!
Teresa Yost, sculptor