Go Green Leaf Series
Our beautiful Leaf Bowls & Serving Dishes and Ikebana Vases add a new dimension to our Go Green Series.
Their function is as wonderful as their form is beautiful. Whether they're used for foods or for other items like
jewelry, desk accessories, pins, etc, this finely handsculpted and handcrafted Go Green Leaf Series will add a
touch of American art to your home.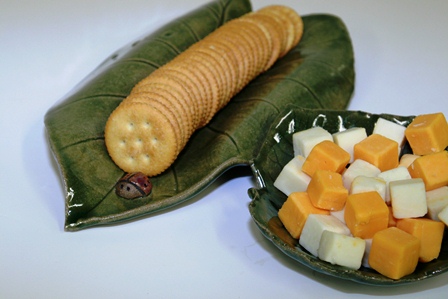 Introducing my newest functional piece -
Curved Leaf Dish
This beautiful long curled leaf can hold crackers, small breads, and other treats.
Notice in all these wonderfully,
functional art pieces the
beautiful touch of Nature
and the gently rolling curves.
All handsculpted and handcrafted.


Inspiration for my leaf bowls comes from my studio that is nestled among 5 giant cedar trees. High fired for durability. My ladybug, FiFi can often be seen on them!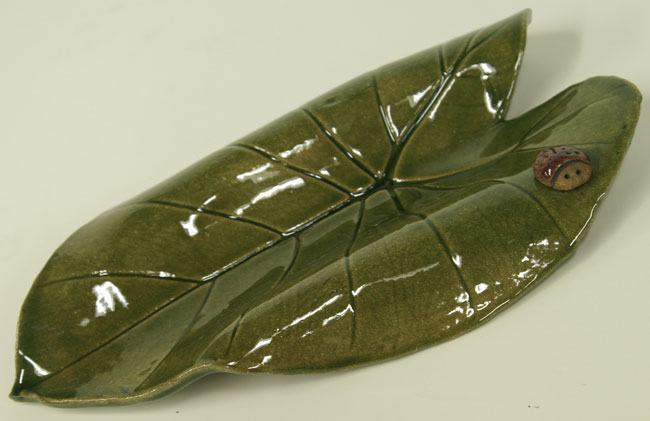 The Go Green Leaf Bowls below come in 3 sizes: large - approx 15" wide, medium - approx 12" and small - approx. 6". The bowls are excellent for fruit, chips and dip, or anything you like to place in them to accent your decor. Little FiFi, our colorful LadyBug, adorns the large and medium leaf bowls. (Please note: FiFi is not in the small bowl allowing it to be easily used for dips, etc.)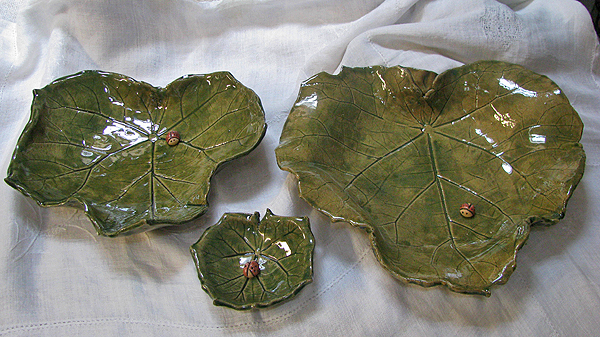 The Ikebana Vases come in two sizes: large - 12" wide and small - 6" wide. The vases have holes in them to allow you to fill with water and place a blossom or two in them. FiFi adds a little personality to these simple, graceful vases.
The Leaf Bowls and Ikebana Vases can be ordered in any of four color choices. See photos below.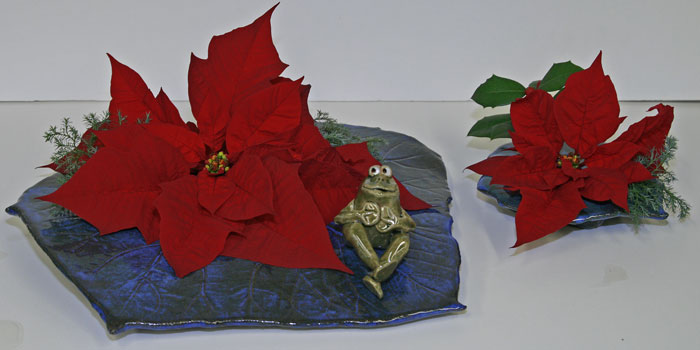 *See info on Ikebana below the photos.
Ikebana Vase with FiFi (ladybug)
Foliage Green color

Ikebana Vase large with FiFi (ladybug)
and small in Blue

Ikebana Vase - small
Turquoise

Leaf Bowl Set - small
Geen - Blue - Turqoise

Leaf Bowl - large
Blue

Leaf Bowl - Large
Turquoise




Large Ikebana Vase - approx. 12"

Small Ikebana Vase or Leaf Bowl - approx. 6"




Large Leaf Bowl - approx. 15"

Medium Leaf Bowl - Approx. 12"

*Ikebana from Wikipedia.org

More than simply putting flowers in a container, ikebana is a disciplined art form in which nature and humanity are brought together. Contrary to the idea of floral arrangement as a collection of particolored or multicolored arrangement of blooms, ikebana often emphasizes other areas of the plant, such as its stems and leaves, and draws emphasis toward shape, line, form. Though ikebana is a creative expression, it has certain rules governing its form. The artist's intention behind each arrangement is shown through a piece's color combinations, natural shapes, graceful lines, and the usually implied meaning of the arrangement.

The spiritual aspect of ikebana is considered very important to its practitioners. Silence is a must during practices of ikebana. It is a time to appreciate things in nature that people often overlook because of their busy lives. One becomes more patient and tolerant of differences, not only in nature, but also in general. Ikebana can inspire one to identify with beauty in all art forms. This is also the time when one feels closeness to nature which provides relaxation for the mind, body, and soul.
Remember, to purchase wholesale, visit her Pricing Page.
To purchase for your own home, garden, office or as a gift,
please visit one of our galleries or send an e-mail to Teresa.