Go Green Turtles
This exciting and whimsical series is a fast-selling product. Go Green Turtles continue to be a huge success. In August 2010, Teresa developed these amazing critters, also adding beautiful Go Green Leaf Bowls and Ikebana Vases and our 2012 Go Green Froggie and unqiue curved leaf dish.
Hand-sculptured and crafted with recycled clay and an old celadon glaze, high fired for durability, these remarkable critters are great indoors and outdoors - can last for years and all year long. Choose from those standing tall or slowly meandering across your table or plant area. They're perfect for a playful grouping indoors or out. But no matter which you choose, you'll find their individual personalities shine!
The Go Green Series TURTLES can be used in so delightful ways. Click here pricing info.
Here are some samples of the finished product:



The above LARGE Go Green Turtles are perfect for your sunroom, greenhouse or garden. Individually hand-made, each birthed with it's very own personality. Sizes of the LARGE Go Green Turtles are approx. 15 inches.

The SMALL Go Green Turtles come in sets of 3 (small or standing) and sets of 6 (small/standing/or mixed) They average 6: in length.

The MEDIUM Go Green Turtles
are approx. 9 inches in length.
And can be standing or down.

To the left you can see all 3 sizes and sample styles
of the Go Green Turtles Series.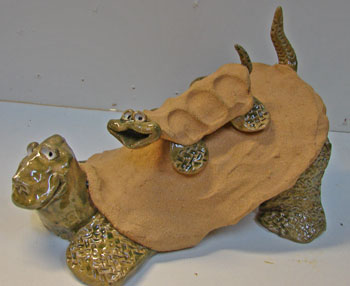 The Go Green Series is fun! Teresa's certain you'll be finding the pefect location for you favorite turtle grouping.
Be sure to view or Go Green Frogs - exciting addition for 2012