Find out where you might find sculptor, Teresa Yost, representing Atelier de Teresa.
2012
Feb. 18-20, 2012
BUYERS MARKET OF AMERICAN CRAFT -PHILADELPHIA< PA- visit us at booth #920

Teresa had back surgery on January 13, 2011 and was supposed to be returning home in a few days. Instead, she had some set-backs and was in ICU for a good portion of the next 30 days. As a resulte, obviously she was not able to attend the Philadelphia show in 2011. But the good news is that she'll returning in 2012, eger to meet returning customers and friends, and make new ones!
NEWS and GREAT FOLKS
FEBRUARY 2012, we are delighted that Tom and Teresa will be attending the Buyers Market this month in Philly! This time last year Teresa was struggling to survive back surgery - a 3-day hospital stay that lasted 51 days! Add the long months of recovery and ... well... they'll be happy to see you at this year's show!
APRIL 23, 2010 WEDDING CONGRATULATIONS to TOM & TERESA!
Teresa Yost married Tom Fitzpatrick on Friday evening, April 23, 2010 at MacGregor's in their banquet room. It was an absolutely delightful celebration shared with approximately 70 friends or so. Simple, elegant and extremely touching!
They shared simple, yet emotional vows causing nearly all of us to dab our eyes before it was finished. We then enjoyed Champagne Toasts, a wonderful cake, and watched as they shared a Bride & Groom Dance - certainly to be one of Teresa's cherished memories.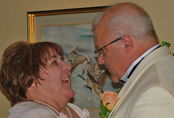 It was an incredible evening and we are quite certain they're enjoying an absolutely delightful time in Ireland this week. Their many friends and family wish them decades of loving years filled with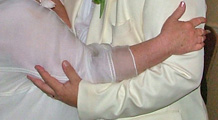 much laughter.
As I see them.... knowing that touch always soothes. May they forever hold each other in the softness of a hug, and support each other with laughter and love.
---
Links of Interest